These three lovely hoez burst onto the rap scene in 1990 with their independent album, "Livin' In A Hoe House" on Drive By Records. Originally from Chicago, they moved to LA to pursue a music career. The members were:
Kim "Baby Girl" Kenner, Tanya "Jazzy" Kenner, and Dion "Diva" Devoux
but like any good girl group there were some lineup changes later on. For the second album "Diva" was replaced by "Go-di", and when one of the girls got pregnant "Baby Girl's" cousin, Ty James took her place. Coincidentally, Ty was the daughter of the legendary
Rick James
!
The group's name was a take on
NWA
(Niggaz With Attitude) and much like fellow female rapper
Choice
, the hoez used explicit rhymes to combat all of the misogynist rap songs by men at the time. The hoez wanted it to be known that they were sexual predators and would not stand for men's shit!
Their debut album was nothing spectacular production wise, but lyrically HWA left a mark on the listener's brain. No topic was taboo, whether it be the struggles with a not so well endowed boyfriend ("Little Dick"), phone sex hotlines ("1-900-Bitches"), good pussy ("Tight"), cunninglus ("Eat This"), or the days in the life of a nymphomaniac ("Freaky Daze"). The album's first single and probably the least explicit song from the album, "Funk Me", received respectable radio airplay and video rotation on the Box.
In 1994 HWA returned with an EP titled, "Az Much Ass Azz U Want". The only single was "Just A Little Action". The hoez outdid themselves with the music video. Apparently the video was so raunchy that not even The Box would air it. Considering The Box generally aired all of the videos the other music stations wouldn't, one can only imagine how truly explicit this video must have been! I wonder if the album cover was any indication.........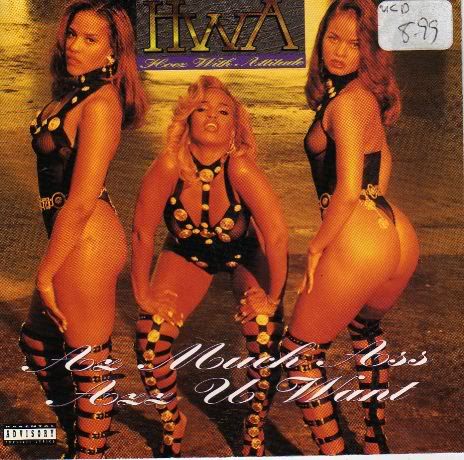 Now under the supervision of rap legend Eazy-E on his Ruthless Records label, the hoez's second release boasted better production, lyrics and a nicer album cover! This EP has most definitely aged well like many of the other "West Coast" rap releases from the era. Lyrically, no new territory was explored, but the EP's purpose was to prepare the public for the upcoming full length album "Hoez In Training". Unfortunately with Eazy-E's untimely death the following year that album never happened and HWA split. Baby Girl went on to record a solo album on a Chicago independent record label but other than that, these hoez remain missing in action!
I wonder if I call 1-900-Bitches if someone will know the answer........
EDIT:
And look what I found on
Amazon
from 1997!!!!