Born 7 minutes apart to a Mexican father and an American mother, Vicky, Sylvia and Diana Villegas, aka
The Triplets
, are best known for their 1991 smash
You Don't Have To Go Home Tonight
.
Prior to their breakthrough hit they released a little known EP in 1986 on Elektra Records entitled
Break The Silence
. Details about his release are really hard to come by, and as a long time fan myself I did not even know of it's existence until I recently stumbled upon it on
ebay
. It's nothing like their material recorded in the 90s, as it sound very typically 80s. Of note
Duran Duran
guitarist
Andy Taylor
plays on a few tracks.
What happened betweeen the 1986 EP and 1991 seems to be a mystery. So let's fast forward to 1991, shall we? Now signed to Mercuy Records, the Villegas sisters release their debut single
You Don't Have To Go Home Tonight
which quickly becomes a hit peaking at #14 on the Billboard Hot 100.
Their debut album
...Thicker Than Water
was charted as well and peaked at #125 on the Billboard Album Chart.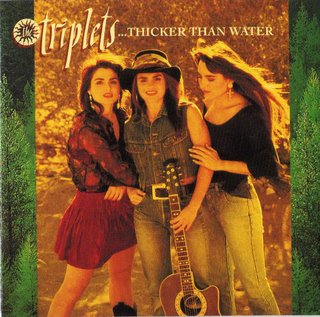 A second single, the gorgeous
Sunrise
failed to chart. Though some of you may remember the title track being played during the final scene of the infamous graduation episode of
Beverly Hills 90210
.
While their full length debut was not the huge success it should have been, they were able to record and release a Spanish language version of their debut entitled
Fuerza del parentesco
which was released in 1992.
Sombras y silencios
(the Spanish language version of
Dancing In The Shadows
) charted at #11 on Billboard's Latin Singles Chart in 1992.
During the fall of 1993 the girls released their one and only album w/ EMI Latin entitled
Algo mas que amor
which billed them as
Las Triplets
.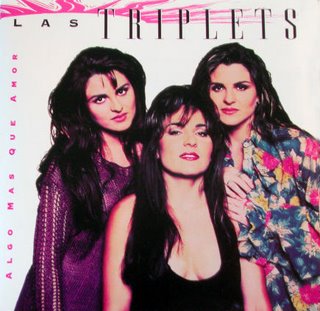 By 1994 the title track peaked at #2 on the Billboard Latin Single Chart. The song was actually a Spanish language version of
I've Been Waiting For You
by the
Guys Next Door
. An English language version was also included on this release. The 2nd single to chart was
Mi mundo entero
and that peaked at #27.
Since 1994 little to no information exists as to the whereabouts of The Triplets. It's a shame they did not record more as they had gorgeous voices and if marketed right could have given
Wilson Phillips
a run for their money. So we contine to ask ourselves...where are they now? While we wait let's watch the video for
You Don't Have To Go Home Tonight
: